Moultrie Georgia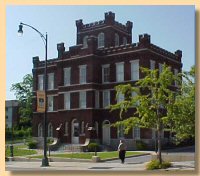 With special festivals and events held throughout the year, and several unique permanent attractions, we feel sure that you will find something appealing to all ages and backgrounds in Moultrie.
In the Spring, look for the Calico Arts and Crafts Festival, Blue/Gray Heritage Weekend & Battle Reenactments, Automotive Swap Meet and Car Corral, or Festival on the Square to keep your days occupied. When the weather gets a little nippier, look to be entertained with America's Premier Farm Show, the Sunbelt Agricultural Exposition, held every year in October. This international farm show presents the latest in ag-related technology and draws a 200,000+ crowd each year.
Moultrie Georgia Attractions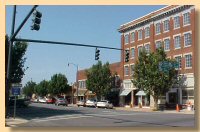 Downtown Moultrie
during our Christmas festivities in Downtown Moultrie, imagine strolling around or riding in a horse-drawn carriage downtown under a magical cascade of lights streaming down from the cupola of our courthouse… Sounds of carolers echoing their Christmas melodies… The smell of hot chocolate wafting through the air… The kids will love our award-winning nighttime lighted Christmas parade and the lighting of the Courthouse Christmas tree.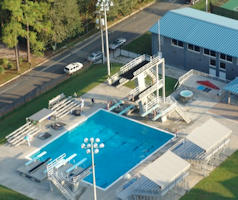 Moss Farms Diving Facility
What does a World War II pilot and a diving facility have in common? The acclaimed Moose Moss diving program and facility have produced several national and international caliber divers while the facility plays host to local, state, national and international diving meets. The "Flying Tigers", as the diving team is called, refers to the famed combat pilot squadron in World War II in which Moss was a pilot. The Moose Moss International Invitational Diving Competition is held annually in June or July.
1020 4th St SW, 229.890.5478,
Web Site
Ellen Payne Odom Genealogy Library
Foreign roots can be found planted in Moultrie. Located in the Moultrie Public Library, the Genealogy Library offers a collection of genealogical, ethnic, and historical information for professional and amateur researchers. The Library is an approved AAA attraction. The Genealogy Library attracts thousands of visitors to Moultrie for research purposes year-round. The Scottish Festival Weekend is presented annually in February.
229.985.6540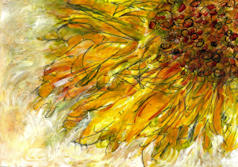 Colquitt County Arts Center
From high school hijinks to high art museum. Formally the Moultrie High School, the Arts Center offers extensive programming in the visual and performing arts. The Arts Center's galleries display a number of world-renown exhibits throughout the year and has played host to the likes of Henri Matisse and Armand Hammer exhibits. The Center boasts the talent of local residents in theater productions throughout the year and sponsors the annual Festival on the Square, a celebration of the arts, in downtown Moultrie in April.
401 7th Ave SW, Moultrie, 229.985.1922,
web site
Spence Field
In 1941, before the United States was actively engaged in World War II, a new Army Air Force base, Spence Air Base, was carved from some 1600 acres of tobacco and cotton fields a few miles southeast of Moultrie, Georgia. Today, three of Spence's wartime hangars are still in existence. Other buildings built by during the war also remain. Spence field is a host to many large events including the Calico Arts and Crafts Show, Automotive Swap Meet and the Sunbelt Ag Expo.
W Yount St, 229.890.5425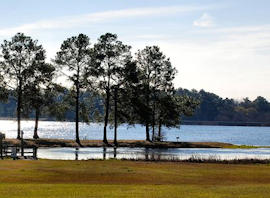 Reed Bingham State Park
National high-speed boat racers zoom through our waters. A popular recreation area offering a variety of facilities and activities situated along the county lines of Colquitt and Cook counties. The 1,620 acre park encompasses a 375 acre lake, a 3.5 mile nature trail which includes a cypress swamp, a pitcher plant bog, and other habitats representative of South Georgia. Campgrounds and areas for picnicking, fishing, boating, swimming, biking, and even a miniature golf course are available to the public. The Reed Bingham Challenge powerboat races are held annually in May and welcome over 8000 visitors to the park.
542 Reed Bingham Road, Adel, GA, 229.896.3551.
Web Site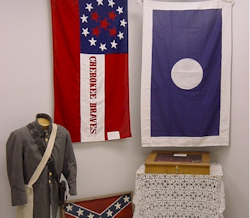 Museum of Colquitt County History
Visit Colquitt County through the ages. The Museum houses articles depicting different aspects of early life in Colquitt County. Maintained by a core of volunteers, the museum welcomes all visitors and natives alike for a tour of special exhibits and permanent displays. Recently added was a Colquitt County Sports Hall of Fame permanent exhibit. Look out for history re-enacting itself each Spring during the Blue-Gray Heritage Weekend held the last weekend in March.
500 Fourth Ave, SE, 229.890.1626,
Web Site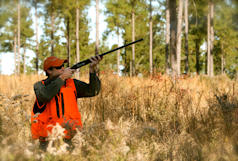 Hunting Plantations
Colquitt County… truly a Sportsman's paradise. Hunters from across the country and around the world marvel at the sporting opportunities of Colquitt County's five outstanding hunting preserves. Games include dove, turkey, deer, quail and duck. Skeet shooting and sporting clays on a range are also an option at area gun clubs. For a complete list of plantations in Colquitt County,
Moultrie-Colquitt County Chamber of Commerce
PO Box 487 Moultrie, GA 31788 229-985-2131 web site