Bainbridge Georgia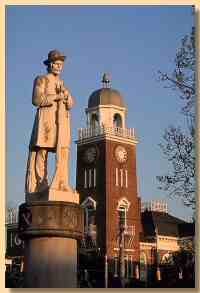 Bainbridge, located in the southwest corner of Georgia, sits on the banks of the Flint River. Winding down into Lake Seminole, the river is home to fantastic areas for boating, canoeing, camping, water skiing, picnicking and great fun. Lake Seminole bass fishing is renowned. Seminole hosts B.A.S.S. and many other major bass fishing top events on a regular basis.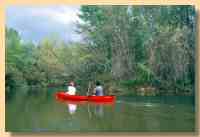 Bainbridge is surrounded by the serenity of nature, filled with the excitement of history and home to genuine southern hospitality. Proud of its small town heritage, the history in Bainbridge is abound, follow the driving tour of historic homes or venture out to the many historic sites and markers.
Bainbridge Georgia Attractions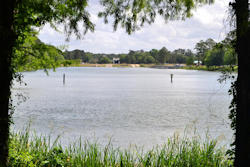 Earl May Boat Basin
Earle May Boat Basin offers a complete outdoor paradise with mega boat ramps, camping on the river, picnic areas, a playground, freshwater beach, pavilion rental, live animals, nature trail and a visitors center.
See more here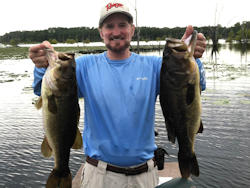 Lake Seminole Bass Fishing
Lake Seminole covers 37,500 acres and is located approximately 15 miles from Bainbridge. This is one of the best Bass fishing lakes in the country. There is also great fishing for crappy, striped bass, catfish and bream. The legendary Jack Wingate lodge and campgrounds is on this renowned lake.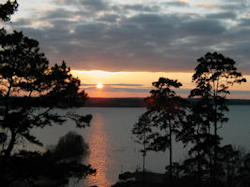 Water Recreation
Exceptional water recreation can be found on the Flint River that runs through Bainbridge, as well as at Lake Seminole, just down the road a piece. In addition to the excellent fishing, camping, kayaking and canoeing, boating, water skiing, hiking and picnicking are among some of the favorite activities.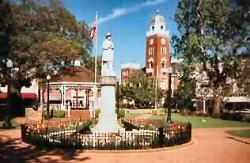 Willis Park, Downtown Bainbridge
In the heart of the historic district, the park features a Victorian Gazebo that serves to host many events such as the British Bass Band, Brown Bag Concerts, and many families that want to have a nice day in Downtown Bainbridge. Bring your own brown bag lunch, spread out your blanket, and enjoy the music.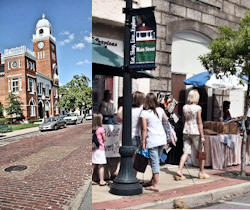 Shopping & Downtown Bainbridge
A number of unique shops surround Willis Park, the Bainbridge town square, where events are hosted on a regular basis,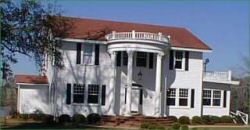 Heritage Tour of Homes
This is a driving tour of over 50 homes, churches and sites that were originally built in the late 1800's and the early 1900's. The 1921 McKenzie-Reynolds House (at left) was moved to its present site along the Flint River and now houses the Chamber of Commerce.
See Historic Tour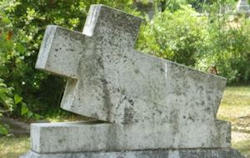 Oak City Cemetery
Prior to the establishment of Bainbridge, Oak City Cemetery had long been home to an Indian Village. It was established as a cemetery in 1852 when William H. Peabody was buried there. His grave is located next to the powder house, where gun powder was stored during the Civil War. In 1878, the west section of the cemetery was deeded to Temple Beth-El and became one of the first Jewish Cemeteries in South Georgia. Numerous unknown Confederate soldiers are buried.
420 Cemetery St,
More of Historic Oak City Cemetery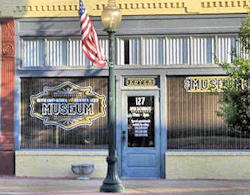 Decatur County Museum
The museum is located across from Willis Park in downtown Bainbridge. It is typically open Saturdays from 10am-12. Private tours may also be arranged by calling 229-220-3135 or 229-220-8106.
127 E Water Street,
See the Museum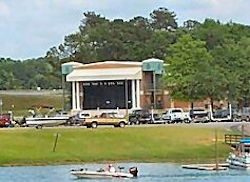 Amphitheater on the Flint River
Our outdoor Amphitheater is located on the banks of the Flint River at the Earl May Boat Basin. Concerts, bass tournament weigh-ins and many other events are held here. The Boat Basin also offers a tremendous amount of recreation facilities. See Map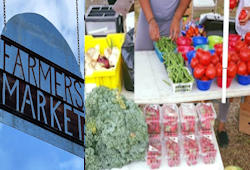 Bainbridge Farmers Market
The Farmer's Market offers local fresh produce March-June and October-December on Saturdays, 9am - 1pm 300 North Broad Street,
web site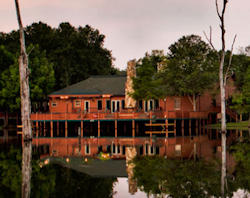 SouthWind Plantation
One of only twenty-four Orvis Endorsed Wing-Shooting facilities in the United States. From some of the best quail hunting in the world to offering guests the opportunity to try their luck at catching one of our trophy bass, SouthWind offers the perfect atmosphere for the avid outdoorsmen. SouthWind offers six state-of-the-art lodges, which can comfortably accommodate forty-eight guests.
670 Bowerstation Road, Attapulgus, GA, 800.456.5208
web site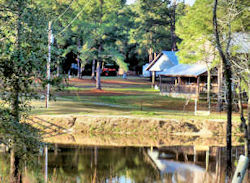 Climax Gun Club
Located in the heart of quality South Georgia hunting, we offer guided and unguided wild turkey hunts, deer hunting and duck and quail hunts. Specializing in custom hunts for groups of 8 or less, our desire is to give each hunter the individual, first class service our hunters have come to expect, but we can certainly take care of larger groups.
206 Salem Church Road, Climax, Georgia 39834, 229-246-6128,
web site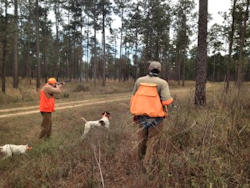 Brentwood Plantation Hunting Club
Located in the heart of plantation country, the lodge features 3 fireplaces, 9 bedrooms, horse barn suite, pond overlook, and sleeps up to 12. It offers a diverse selection of wing-shooting possibilities on 2800 acres of land via jeep drawn wagons, the Quail Limo or horseback.
144 Cyrene Rd, 229.400.3779
web site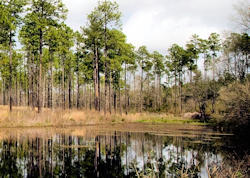 Cedars Farm Plantation
The plantation offers seasonal hunting for quail, wild turkey and deer with professional guides and dogs on 1,000 acres of managed longleaf pines. We also offer guided fishing trips on the Flint River and Lake Seminole, or enjoy the 40 acres of stocked fishing ponds on the property.
3521 Fowlstown Road, Fowlstown, 229.416.5014
web site
Bainbridge Decatur County Chamber of Commerce
300 Boat Basin Drive, 229-246-4774 or see Bainbridge Georgia