Historic Oak City Cemetery, Bainbridge Georgia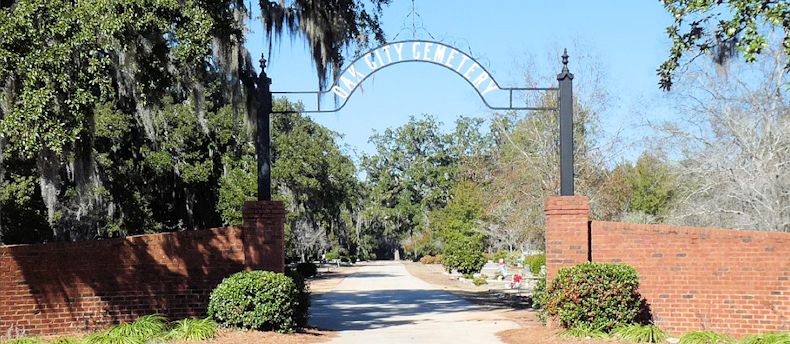 Prior to the establishment of Bainbridge, the Oak City Cemetery site had long been home to an Indian Village. It was established as a cemetery in 1852 when William H. Peabody was buried there. His grave is located next to the powder house, where gun powder was stored during the Civil War. In 1878, the west section of the cemetery was deeded to Temple Beth-El and became one of the first Jewish Cemeteries in South Georgia. Miriam Hopkins, a famous Broadway, movie and television star from the 1920s-1950s is buried there. Hopkins was nominated for an Oscar and has a Star on the Hollywood Walk of Fame. Marvin S. Griffin, the 72nd Governor of Georgia is also buried in the cemetery, along with numerous unknown Confederate soldiers.
---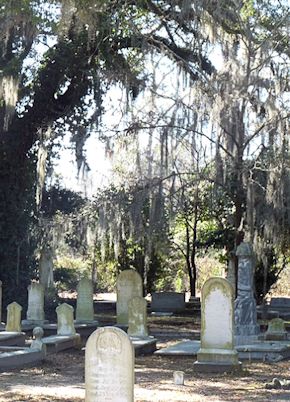 History
Oak City Cemetery was established in 1852 with the burial of William H. Peabody. His grave is located next to the powder house, where gunpowder was stored during the Civil War.
On March 23, 1853, a tract of land was deeded by Edward H. Mann to John M. Potter, Benjamin M. Griffin, Alexander A. Allen, John L. Crawford and Luke Mann, Trustees for the Citizens of Bainbridge for the sum of one hundred dollars. The cemetery was incorporated Bainbridge Cemetery in 1854 with the above trustees.
In 1878, the west section of the cemetery was deeded to Temple Beth-El and became one of the first Jewish cemeteries in south Georgia.
The cemetery has been expanded twice over the years. The oldest section is noted for its large oak trees and serene ambiance.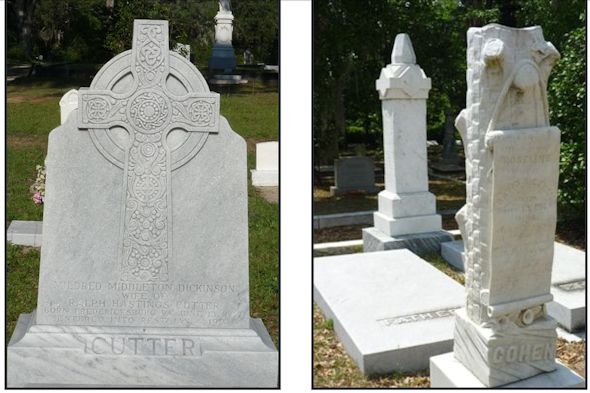 ---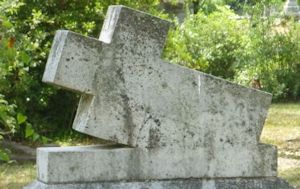 Markers and Emblems
As you walk through Oak City Cemetery, it's easy to imagine what life may have been like in the past. Besides the stories printed here, those buried in our beautiful cemetery are remembered through the stones placed on their graves. Below you will find a few examples of emblems and markers found in our cemetery, as well as a description of what they likely symbolize.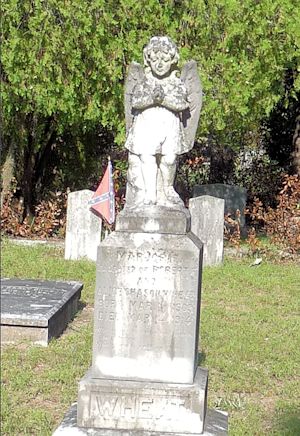 Spires - pointing toward heaven, eternal life
Celtic Cross - Ireland as a country of origin
Seashells - A journey or pilgrimage
Urns - Holding the spirit of the deceased
Hands - A relationship or partnership
Cross - Faith
Lamb - Innocence
---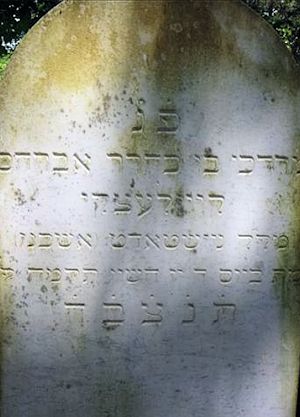 Jewish Section
Many of the gravestones are written in English on one side and in Hebrew on the other embracing Jewish heritage.
---
Miriam Hopkins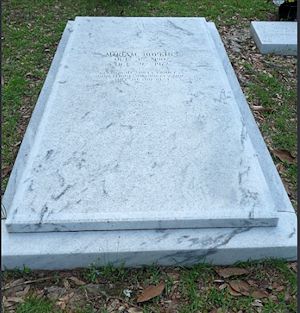 Miriam Hopkins, who was born in Savannah in 1902, moved to Bainbridge after her parents divorced when she was a small child. Her great-grandfather, James Dickinson, was the fourth Mayor of Bainbridge and also a founder of St. John's Episcopal Church. While in Bainbridge, Hopkins was a member of the children's choir and discovered that she loved singing.
While in her teens, her family moved to New York City, where she finished high school. Hopkins attended Syracuse University where she majored in drama and had many jobs dancing and singing, including a few on Broadway. In 1928, she headed to Hollywood and soon won a role in her first movie, Home Girl.
Her career took off and she starred in 36 feature-length films over four decades. Hopkins won one of her biggest roles in 1932, starring in the movie Dr. Jekyll and Mr. Hyde. In 1935, Hopkins starred in Becky Sharp, a role for which she earned an Oscar nomination for best actress. It is said that Hopkins was desperate to play the role of Scarlett O'Hara in the famous 1939 film Gone with the Wind,and was seemingly the natural choice. Nevertheless, the role went to Vivian Leigh. After that disappointment, Hopkins was asked to play the role of Ellie Andrews in It Happened One Night.
Hopkins rejected the role and it went to Claudette Colbert, who won an Academy Award for her part. Hopkins also had an impressive television career spanning from the late 1940s - late 1960s. In 1949, she was nominated for a Golden Globe for Best Supporting Actress for her role of Aunt Lavinia in The Hieress.
Hopkins has two stars on the Hollywood Walk of Fame, one for motion pictures and the other for television. She died of a heart attack in New York City on October 9, 1972
---
The Bower Wives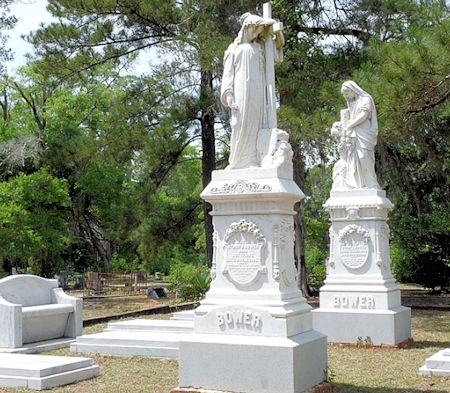 Judge Byron Bower, who served as Superior Court Judge of the Albany Circuit, was instrumental in bringing the railroads to Bainbridge and heavily promoted the growth and development of Decatur County. In 1871, he married Ellen Tallulah Dickinson and they had nine children. Ellen died in 1885 at the age of 32.
A year later, Judge Bower married Ellen's sister, Annie, who died less than a year later. The sisters are buried together in the cemetery. Judge Bower had similar gravestones made for both wives, but faced them in different directions, perhaps because he didn't want them to look at each other.
---
Benjamin Russell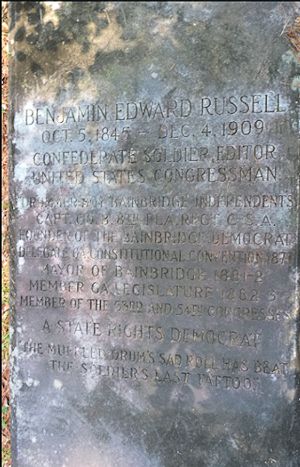 While not born in Bainbridge, Benjamin Russell moved to town when he was 11 years old and became one of its most well known residents.
Russell was a Confederate soldier in the Civil War. He was also the editor of the local newspaper, the Bainbridge Democrat. In 1877, he was named a delegate to the State Constitutional Convention, and three years later he was named a delegate to the Democratic National Convention. Russell later served as Mayor of Bainbridge and as a member of the Georgia House of Representatives as well as the postmaster of Bainbridge.
From 1893-1897, Russell served in the Fifty-third and Fifty-fourth Congresses. After serving in Congress, Russell returned to Bainbridge to resume the publication of the Bainbridge Democrat until his death in 1909.
---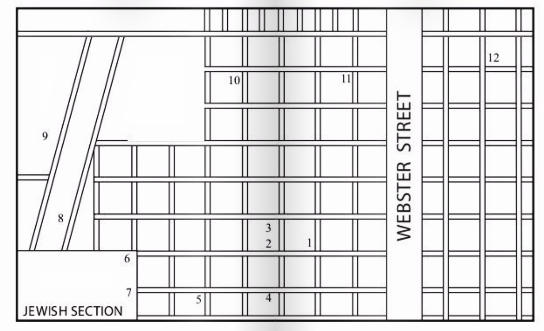 1. Miriam Hopkins - 1902-1972
2. The Bower Wives

Ellen - 1853-1885

Annie - 1857-1886
3. Benjamin Russell - 1845-1909
4. William Peabody - 1805-1852
5. Fannie Brash - 1878-1878
6. Tilla Frohlich Weile - Unknown
7. E.J. Willis - 1861-1929
8. J.W. Callahan - 1858-1926
9. Maston O'Neal - 1847-1891
10. Dr. J.D. Chason - 1851-1918
11. Marvin Griffin - 1907-1982
---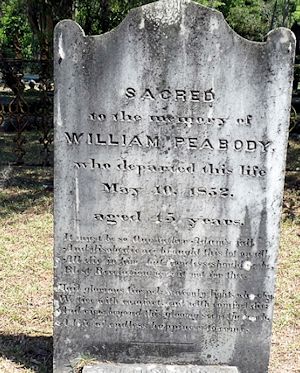 William Peabody
Peabody, born in Connecticut in 1805, was the first person buried in Oak City Cemetery, before it was even incorporated as a cemetery. Peabody died on May 10, 1852 and is buried near the magazine where gunpowder was stored during the Civil War. Peabody moved to Bainbridge in 1829 and owned a dry goods store called Peabody and Co. He served as one of the trustees of the Bainbridge Female Academy and was also a state Representative.
---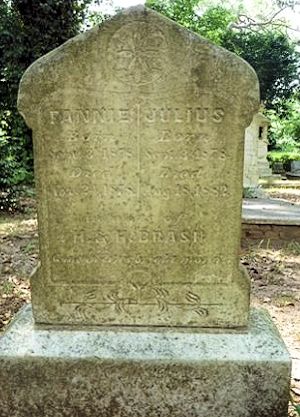 Fannie Brash
Fannie Brash was the first person buried in the Jewish section of the cemetery. Brash, the daughter of Henry and Henrietta Brash, was only 3 months old when she passed away. Fannie's four siblings are buried next to her in the cemetery. None of them lived past the age of 20.
---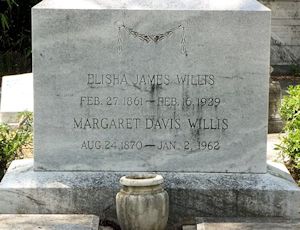 E.J. Willis
Elisha James Willis served on the city council for 33 years. In 1904, he became Mayor of Bainbridge, an office he held until 1907. He was awarded a large set of goblets and water pitcher for 72 hours of continuous service during a major fire in the city as well as his noted works to prevent water shortage. The park in the center of the square in downtown Bainbridge was named in honor of him—Willis Park.
---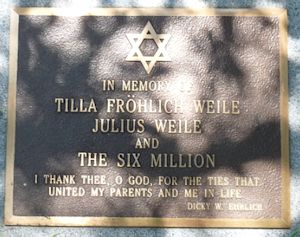 Tilla Frohlich Weile
Buried in the Jewish section of the cemetery, Ms. Weile's gravestone is a memorial to all Holocaust victims. Weile was a child during the Holocaust and only survived because she was able to work in the concentration camps. Weile's gravestone pays homage to the "Six Million" that died in concentration camps during World War II.
---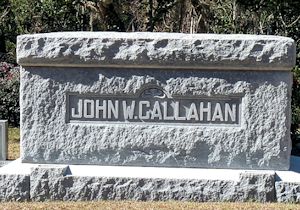 J.W. Callahan
In the late 1880's John Wesley Callahan operated the largest individual naval store in the world. The industry is associated with the maintenance of wooden ships which were caulked and waterproofed using the pitch (or resin) of the pine tree.
He was owner and operator of a line of paddlewheel steamboats known as the "Callahan Line." These boats traveled from Bainbridge on the Flint River, south to where the Chattahoochee and Flint converge to form the Apalachicola and then on to the Gulf of Mexico. Sometimes they went upstream to Columbus, acting as excursion boats. Their cargo to the Gulf was usually cotton and naval supplies.
Callahan served as Mayor from 1912-1917 and councilman several times. He promoted the building of a theatre and the erection of the fountain and statue of a Confederate Soldier in Willis Park. He also promoted the building of several schools and was sent to Atlanta as a Representative in the legislature.
The Callahans built a large house on the corner of Broad and Evans Streets which resembles the front of a steamboat, and now it is often called "Steamboat House." The house is listed in the National Register of Historic Places.
---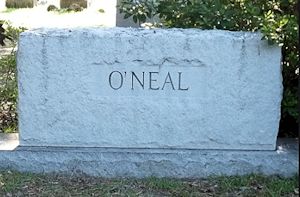 Maston O'Neal
Maston O'Neal joined the Confederate Army at the age of 16, where he fought in battles at Dalton and Peachtree Creek. After being wounded at Peachtree Creek, O'Neal returned to Bainbridge, where he worked as a lawyer serving as ordinary of Decatur County.
He later served as county school commissioner from 1875-1877 and mayor of Bainbridge from 1889-1890. In 1890 and 1891, O'Neal served as a state Senator
---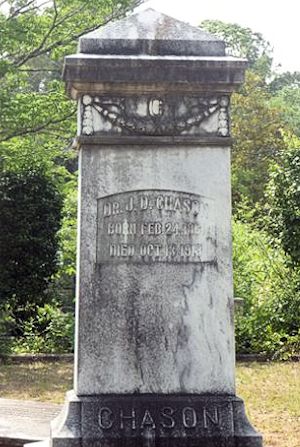 Dr. J.D. Chason
Dr. Chason, whom the city's Chason Park is named after, was President of the J.D. Chason & Co. Naval Store. He also worked as a doctor and founded Riverside Hospital with his brother, Gordon. Chason served as a member of Governor Hugh Dorsey's staff and was also Vice President of the Georgia Medical Association.
---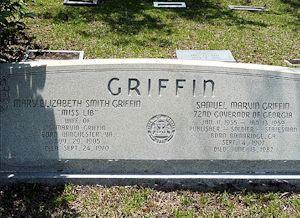 Marvin Griffin
Griffin served as the 72nd Governor of Georgia. He was the first man in the history of the state to serve as Adjutant General, Lieutenant Governor and Governor. Before being elected to office, Griffin ran the The Post Searchlight, Bainbridge's local newspaper, a job he took over from his father. He was a World War II veteran, serving as "D" Battery Commander of the 101st Anti-Aircraft Automatic Weapons Battalion of the Georgia National Guard. After serving as Governor, Griffin returned to Bainbridge to resume management of the newspaper.
---
While visitors to Oak City Cemetery are certainly welcomed, there are guidelines that must be followed for safety and
to preserve the integrity of this historic site.
No gravestone rubbings
Do not lean or sit on markers
Walking tours are strongly recommended
Respect funeral services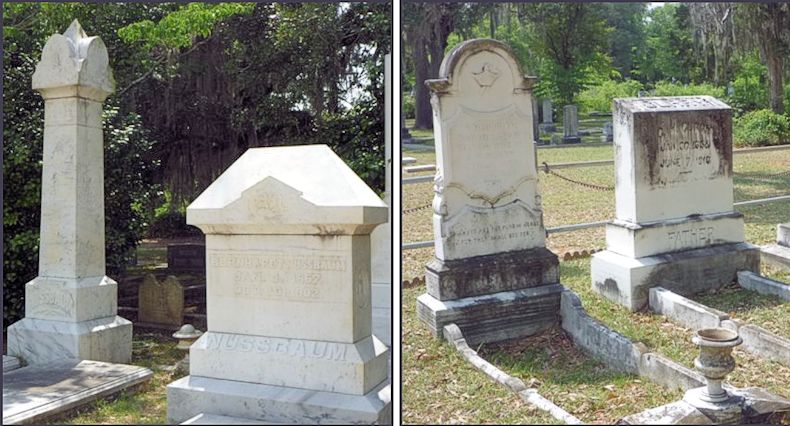 For information regarding guided group tours, please contact the Bainbridge Convention and Visitors Bureau at 229-243-8555.
The photos on the cover of this brochure are the work of Paul Kwilecki. For over forty years, Bainbridge native Paul Kwilecki photographically documented life in Decatur County. One series of photographs captures the monuments and gravestones in local cemeteries. A large collection of Kwilecki's photographs may be found in the book One Place, published in 2013 by the University of North Carolina Press.